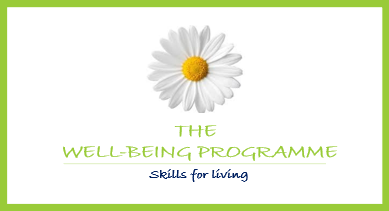 The Wellbeing Programme©
The Wellbeing Programme© is a personal development & recovery programme based on the principles of mental health & wellbeing recovery; Mindfulness skills & practice and Positive psychology.
During the first 8 sessions you will learn skills & techniques that promote wellbeing. You will develop your own personal Wellbeing Programme from week one, each session building on the last to reinforce your new skills.
The further 4 sessions offer support & guidance in practicing & maintaining your new skills and wellbeing programme, making your recovery and personal development sustainable.
12 weekly session each 2.5 hours with tea/coffee break.
Introducing The Wellbeing Programme©.
Understanding Wellbeing.
Developing your own Wellbeing Programme.
Challenging Your Thinking.
Building Confidence & Resilience.
Understanding Mindfulness.
Self-Care & Dark Days.
Developing Good Habits
More Mindfulness.
Practice & Troubleshooting.
Workshop for Wellbeing.
Maintaining your Wellbeing Programme.
Start Date: 19th April for 12 Consecutive weeks via zoom Every Monday 2-4pm
Early Booking essential as limited places available
For more information or to enrol please email This email address is being protected from spambots. You need JavaScript enabled to view it. or contact Amanda Hunt on 0861304869 or Stephanie Hudson on 0871401443.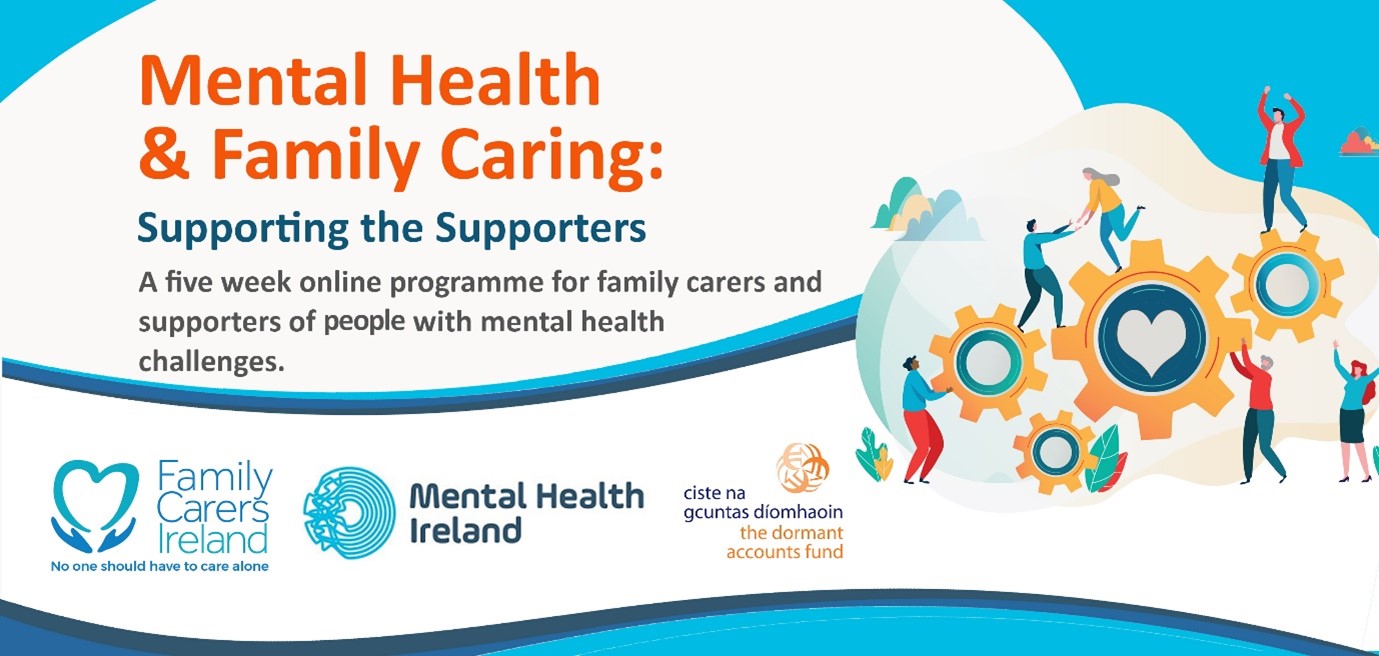 Family Carers Ireland are pleased to have partnered with Mental Health Ireland to Co-Produce Mental Health and Family Caring Programme. This five-week online programme's aim is to support the supporters of people with mental health challenges.
Our programme has been adapted from the Meridien Family Programme 'Caring for Carers'. It has been co-produced with family carers, supporters, people with lived experience of mental health challenges and service providers.
By the end of the programme participants will have:
Had time to reflect on and build tools and techniques to enhance their self-care
Expanded their understanding of the concepts of mental health, mental illness and recovery
Increased awareness around their boundaries with regard to personal wellbeing and the caring role
Had an opportunity to learn about and practice communication skills and active listening techniques
Learned about supports and services available for those who are caring
The programme will be co-delivered by staff from the Recovery College, Family Carers Ireland, Family Carers, and people with lived experience of mental health challenges.
Participants can register by emailing: This email address is being protected from spambots. You need JavaScript enabled to view it.
Places are very limited so please consider if you are in a position to commit to the five weeks. If you cannot commit to the five weeks, please consider a shorter course or workshop.
Dates and Times
Thursdays: 2.00 – 5.00 pm, starting 15th April for 5 consecutive week.
Closing date for registrations: 12/04/2021
Technology Requirement
To take part in the programme you will need a smart-phone, laptop, tablet, iPad or PC and a reliable internet connection. The programme will be delivered through Zoom. All materials will be sent out to you in advance of programme delivery.